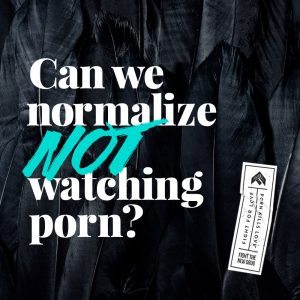 Many people contact Fight the New Drug to share their personal stories about how porn has affected their life or the life of a loved one. We consider these personal accounts very valuable because, while the science and research is powerful within its own right, personal accounts from real people seem to really hit home about the damage that pornography does to real lives.
Porn can have an effect on someone, even if they've never seen it before. This teen Fighter's story gives us a look inside what it's like to go against the grain and choose not to consume.
---
Hello there, FTND!
This is a really random message, but I just want to thank you all for what you are doing. I have never watched porn before, because I always felt it was wrong in so many ways. When I was a young girl, I never had any desire to watch it and so I never did.
Society has indeed normalized porn. So much so, that I would never say anything about it when friends would talk about it, because they made me feel like I was the weird one for not doing it. Even before having sex for the first time, this all had quite an impact in me. I still have to tell myself that I'm not weird for not wanting to watch porn and that there's nothing I'm missing from it. I have to convince myself that I don't have sexual issues without having any desire for porn, because that's what people have made me feel, including previous boyfriends.
Related: 20 Years Of Looking At Porn And I Wouldn't Wish This On Anyone
Knowing that my previous partners and current boyfriend have all seen porn, it's created a huge anxiety in me. It makes me …read more
Read More →